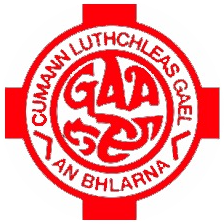 Be Kind, Mind Yourself
Blarney GAA Healthy Club are delighted to launch our " Be Kind to Your Mind " campaign in conjunction with the wonderful Dr. Sharon Lambert Psychologist.
Collectively we are all going through something unprecedented, and the mental health implications are huge; some have lost their jobs, some are trying to stay afloat, others are feeling isolated, anxious and alone.
Whatever the case, we are all feeling something.
We at Blarney GAA Healthy Club believe that talking changes lives. Our campaign is about being kind to your mind and reaching out if you need help.
Please join us on Wednesday the 24th March 2021 for our " Wednesday Night Chats" with Dr. Sharon Lambert who will be talking about mental health and the different support services that are available.
Dr Sharon Lambert joined the teaching staff in the School of Applied Psychology in 2015 following a number of years working within community-based settings that provide supports to marginalised groups. Sharon's research interests revolve primarily around the impact of trauma on development, its link with substance dependence and mental health and consequent considerations for service design and delivery.
To register for the event please fill in the following form.
https://forms.gle/GinADxHvMf7kWox36
"Don't' forget it' s good to talk and you are not alone"
"Be Kind to your Mind"