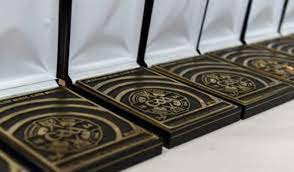 Blarney Wins National Award
The winners of the 2020 MacNamee Awards, which recognise oustanding contributions made by individuals and Association units in the area of media and communications, have been confirmed by the GAA.Blarney GAA has been awarded the Best Website for 2020 in the Gaa MacNamee Awards. Here's what the GAA had to say about us!
2020 Best Website – Blarney GAA Club – blarneygaa.ie
Blarney's website has a very modern feel to it; a fresh design and good use of media. Lots of news, features and sub-sections which are up to date. Navigation across the site is clear, information is easily attained, and the search function performs well. Links to their social media sites are available and additional sections such as the galleries and 'Blarney Quizes' section adds further character to the site and is welcoming for members, both new and old. In addition, there are comprehensive sections on Child Safety & Wellbeing, which are so important in this day and age. Their Club History & Roll of Honour sections also caught the eye, with detailed information on the club, it's vision and their teams. This site has something for everyone, catering to all within the Blarney GAA Community.
Find full list of winners and article here