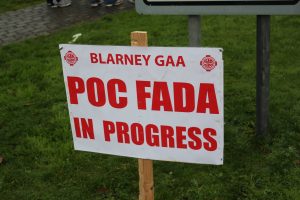 The Blarney GAA Long Puck will take place on St. Stephen's Day commencing at 12:30 from the Gully and will run to Waterloo. The event will comply with COVID-19 guidelines and we are asking that as many participants as possible will pre-register for the event and help us to run the event as safely as possible so that we can avoid large congregations at the start line and finish line.
Please register by 12noon on 24th of December and organisers will revert by text with a starting time.
REGISTRATION LINK:
https://forms.office.com/Pages/ResponsePage.aspx?id=hrxFrNSvpUKfwz6H4bd_zsKMRDa3K3FKvBo_qtjY6OpUM09FU1VTSzBRVU0xRzIwUVMwTEZBTlNRWS4u
PLEASE BE AWARE OF THE FOLLOWING:
1. Masks are recommened to be worn when social distancing cannot be maintained, please ensure to wear your mask when collecting your sliotar and score card.
2. Categories are: General, Ladies and Family.
3. Children under 12 must play with an adult.
4. One member of each team is to wear a hi vis vest.
5. Comply with instructions from stewards along the route.
6. There will not be a prize giving on the day.
7. We will facilitate those that do not register by asking them to start from 1:30 onwards.
8. If you do not have a team please arrive at 1:30 and we will arrange one for you.
9. Teams will be asked to be present 10 minutes before their scheduled time.