Thanks to Damien Philpott for the following article on the history of Séamus Long, the man who the Premier Intermediate Hurling Championship Trophy is named after.
A "Long" tradition of hurling and G.A.A.
Blarney are the 2020 Premier Intermediate Hurling champions and the Séamus Long cup will reside in Blarney for twelve months at least.
But, have you ever wondered about the lives of the men and women, whose names are engraved on the trophies that are presented to G.A.A. clubs every year in every county?
I had the good fortune to bump into Marc Scully, the great grandson of Séamus Long, when the cup was paraded through the village on Sunday morning, and he filled me in on the man, whose name is on the cup.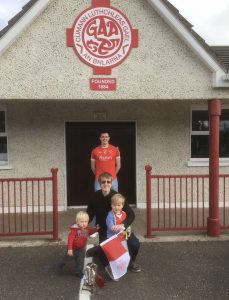 Photographed are Marc Scully, great grandson of Séamus Long, with Darragh and Fionn, great – great grandchildren of Seamus long, and Peter Philpott, joint captain of Blarney premier intermediate hurling team 2020.
The Séamus Ó Longaigh Cup…Corn Shéamais Uí Longaigh
Séamus Ó Longaigh [Long] was born in Kilnaglory, Ballincollig, in 1884. He was trained as a National [Primary] Teacher in St Patrick's College, Drumcondra, Dublin, from 1904 to 1906.
Having taught in Dublin for a number of years, he was appointed to Ballinora National School in 1913, where he taught until his retirement in 1950.
Séamus was passionate about G.A.A. and used it as a means of sporting and educational activity. He was one of the founding members of Ballinora G.A.A Club in 1924.
He continued his service to the G.A.A. in an administrative role, by becoming a member of Cork County Board…serving as Vice-Chairman from 1940 to 1946 and as Treasurer upon the death of his brother, Tom, from 1947 to his death in 1953. He also served as Central Council Rep from 1947 to 1949 and as Munster Council Rep from 1949 to 1953.
Séamus was a selector and mentor for the Cork Minor Hurling teams and served as the last Secretary of the old Mid-Cork League, continuing in the same position in the new Muskerry G.A.A Board, set up in 1924.
In 1963, the County Board awarded a new cup, the Séamus Ó Longaigh Cup, in his honour to the winners of the Cork County Intermediate Hurling Championship.
Séamus's great-grandson, Marc Scully, and his two great-great-grandsons live in Blarney currently. So, the cup is in its rightful place in Blarney for 2020, continuing the Long tradition.
Suaimhneas Síoraí dó!